Mailing list
---
Sign up for my writing on front-end engineering leadership.
I don't write about the latest hot JavaScript framework or nifty CSS animation techniques.
Instead, I focus on big challenges for front-end engineering leaders: development practices, growing teams, and long-term technical strategy.
You'll get short daily lessons and insights, and my monthly link newsletter, Tinned Fruit Missives.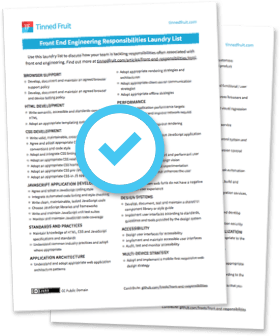 Join my daily mailing list
Sign up now and get my Front-End Engineering Responsibilities Laundry List PDF for free.
You'll get regular emails about front-end development. Unsubscribe at any time.
---
Archives
Tinned Fruit Missives | Daily emails
Tinned Fruit Missives archive
---
Daily email archive