Services
---
My consulting and coaching services are available as guaranteed, low-risk, fixed-price packages. That way you know exactly what you're getting up front.
If you're not sure what service you need, get in touch and we'll work something out.
All prices are exclusive of VAT.
---
Consulting Services
60-Minute Web Strategy Call
Unsure about your front-end tech approach for a new or existing app? Confused by the wealth of choice in front-end technologies? I can help focus your thinking with this strategy call. We'll discuss your situation and develop a brief roadmap or recommendations. You'll receive a recording of the call and an email summary.
A 60-minute call costs £225. Find out more
Front-End Tech Health Check
Is your application failing to deliver on your product vision and ambitions? Are you stuck deciding whether to refactor or rewrite your front-end? I'll discuss challenges with you in a kick-off call, then inspect your product and codebase. You'll receive a PDF report with a plan for improvement.
Health checks start at £1,795. Get in touch for details
Front-End Product Development Audit
Do you have multiple agile teams working on one or more products? Is every team doing their own thing on the front-end? Are they struggling to deliver new features? I'll work closely with your teams to gather data and ideas covering all aspects of web product development. You'll get a full PDF report of findings and targeted recommendations for improvement, and an optional follow-up call.
Audits start at £4,195. Get in touch for details
Monthly Product Development Advisory Retainer
Web products are best improved incrementally. Gain ongoing access to my experience and expertise in developing web products at scale with unlimited one-to-one contact via video call, email or messaging. Participation is limited to 5 people.
Unlimited access for £1,695/month. Get in touch for details
Monthly Development Leadership
Does your organisation need the ongoing input of an experienced technology leader with a front-end focus? This package includes hands-on technology strategy and leadership, team coaching, decision support and more.
Packages start at £7,495/month. Get in touch for details
Coaching Services
One-to-One Tech Lead Coaching
Do you want to help a recently promoted developer succeed as a technical team lead? This monthly coaching service covers all aspects of product development, working with stakeholders, agile and lean development practices and front-end technical leadership. Includes two coaching sessions a month and unlimited email and messaging access for one person. Limited to 5 spots.
Packages start at £1,195/month. Get in touch for details
Team Front-End Product Development Coaching
Do you want to improve a whole team's front-end product development practices without hiring expensive contractors or senior developers? Each coaching package is designed exclusively for the needs of your team and product. Packages can include monthly workshops, seminars and mob programming sessions, with your product at the heart of everything.
Packages start at £2,495/month. Get in touch for details
---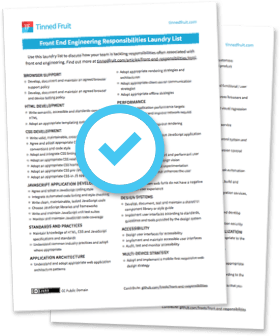 Not ready for my services yet?
Use this laundry list of responsibilities to explore how your team does front-end product development. It's the same one I use with my clients.
You'll get occasional emails about front-end development. Unsubscribe at any time.